UPDATE: If you are on Mountain Lion and running Safari 6, this guide will not work for you, my updated post is here!
Using Safari, it is very easy to download YouTube videos straight from the browser, no extensions, add-ons, or external websites necessary.
Step 1) Open the YouTube video that you want to download.
Step 2) Open Safari's Activity Window by pressing Command-Option-A or by selecting Window in the menu bar and then selecting Activity. You should see this window below.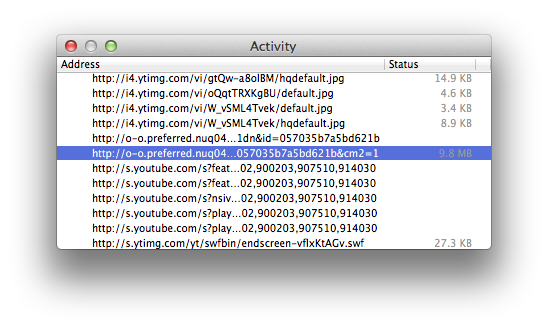 Step 3) Find the tab for the YouTube video that you are watching and expand it.
Step 4) Scroll down until you find an element whose size is over 1 MB, typically it will be around 10 MB depending on the quality and length of the video.
Step 5) Hold down Option and double click on the video and it will begin downloading!
Step 6) Enjoy your video! It will be in your downloads folder as a flash video file with a .flv file extension. You can play this file in VLC or QuickTime provided that you have Perian installed.
If you have any questions, feel free to post them in the comments below.