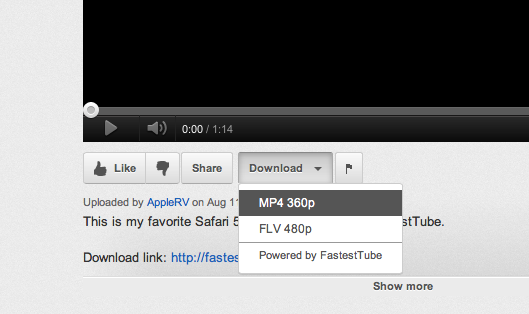 Here is a quick guide on how to download YouTube videos on Mountain Lion using Safari 6! Many of you have been requesting this article, so here it is! Sorry for the delay!
Step 1) Go to Kwizzu.com and click on the "Install" button at the bottom. For this step, make sure you are in Safari or else it will download for your other browser.
Step 2) After the Safari Extension is installed, you can simply go to any YouTube video as you normally would.
Step 3) Right below the video, on the right side of the "Share" button, there will now be a "Download" button that will allow you to select which format you would like to download the video in. It could not get any simpler than this! If you need help with this step, take a look at the screenshot above, it should be able to help you!
If you have any questions about the process described above, please leave a question in the comments below and I will be sure to answer them!